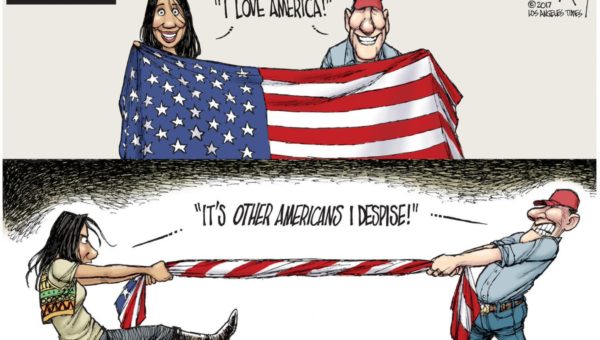 Facts are facts and we know all this: Trump is a pathological liar, dangerously incompetent, fundamentally amoral, his operating system is mafia-like, he puts his interests before those of America, he never had a functional White House, he diverted administrations to serve his business and electoral needs, dozens of his staffers and associates have been charged or convicted, he did not pay taxes for ten years, etc. etc. Yet 74 million people voted for him, and GOP politicians still support his baseless claim that he won the election. So the obvious question is: why? When those people do not realize or recognize the above, is there a dumb and dishonest America – up and against a clever and honest one? At least is this what Europe and a large part of the world are wondering. This is too simplistic?
There is – probably – a remaining, albeit smaller, part of Republicans who believe in the Republican values. That's legit. There is a – larger – part of Republicans who do not want to admit or condemn the above – because it eventually serves their interests. Usually the same: whiteness, privileges or money. And there is the dumb part, dumb or dishonest enough not to fact-check, get to know how to, understand that Trump actually hurt their interests. The polls speak: uneducated whites stuck with obsolete myths – and as a result potentially violent. Probably sad – but part of democracy: their vote counts the same and there have been Berlusconis, Orbans, Dutertes and others before.
What's frightening is that the minority of « in-principle » sane Republicans need, use and fuel the dumb and violent part – because they need it to retain power. Their prior remedies – minorities voter suppressions, gerrymandering, the Electoral College, etc. – come to their end with a popular vote now 7 million more for the Democrats, and this being the demographic trend. And the larger part of the GOP political apparel is merely hostage to Trump's dumb and dishonest base – they can't be elected without it. That's not any more glorious.
So it's all about desperately trying to keep hold of power. It has nothing to do with the legitimate claim of exhausting legal remedies – it is only a pretext to delegitimize the Biden administration before it started, a destructive and divisive goal to prepare the narrative for 2024. This is not politics anymore. It weakens democracy and the rule of law – there is no more facts, truth, honesty. Everything is easy: States attacking the elections in others and threatening secession with « law abiding » pals – doesn't matter that they're not the law abiding ones and that they lie when anyone can invent their own truths and pretend.
The GOP, its politicians supporting his stunts, and Trump will have blood on their hands if violence emerges from that, from the masses fueled with the resentment that the election was stolen. That's unfortunately also part of that old America. It is dangerous and so, yes, there is a dumb and dishonest America. And a larger one than we think. The only reassuring bit is that the clever and honest one won.